Grey Marble Floor Tiles
People are preferring natural stones for the design of their houses in recent years. As in the past, natural stones are very popular design materials that are used for many different places and buildings. Especially, for houses, many different forms of natural stones are used. Grey marble floor tiles are also proper materials for house floors and walls. With their many different types and shapes, grey marble floor tiles can be used for a lot of places for houses and offices. Because of their natural beauty, people who want a natural look for their houses can prefer these products.
Visit for Our Marble Collections click.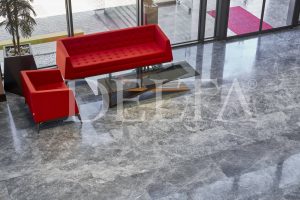 Light Types of Marble
Grey marble floor tiles is a very appropriate material for house use. Many different light color types of these products are used by architects and constructors. One of the most popular types of these materials is Light BlueStone. Light Blue Stone is a very unique material. It has many features. With white color veins on a natural light blue surface, it can be used for many different areas in your houses.
Another light color type of Grey natural stone tiles is Tundra Grey. This natural material is very popular in recent days. Because of its soft light grey color and natural look, it can be used for kitchen floors and walls. Moreover, Tundra grey can be used for producing furniture as a component material.
Dark Types of Tiles
Grey marble have many different kinds of dark color types such as Tundra Dark, Basalt, and Antique BlueStone. Especially the last one has a very special structure and color. Antique Blue Stone has a very elegant structure with a contemporary texture. It can be preferred for a formal view of your houses and offices. Moreover, these types of grey marble have a rakish view for your floors and walls.
Another very popular type of grey tiles is Tundra Dark. These natural stones have a natural textured with simplicity. Its ingebeous look creates a very stylish view for your salons and living rooms. This artistic product can also be used for bathrooms and toilets as a design and covering material. In addition, Tundra Dark can be combined with other types of tiles such as BlueStone and Seagrass Limestone.
Grey marble are a very operable material for your commercial and residential projects with the most qualified stocks and best prices.