Travertines can be used in gardens thanks to its sturdy structure. It can be also used in the poolside with its heat-blocking feature. It has different colour choices and finishes. Ancient use of travertine shows us that it is an ideal choice for classy look and durable designs.
Travertine is a form of limestone which can be found around mineral spring deposits. It forms by the precipitation of calcium carbonate. Its porous, marble-like texture makes it an ideal choice for designing living spaces. Besides, travertines can often be chosen in gardens. We will discuss how to use travertines in gardens.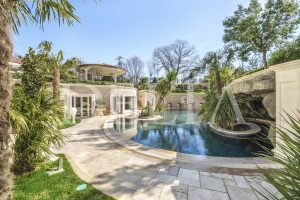 There are some areas of usages and some pros and cons for the usage of travertines in gardens. Here it is:
Areas of Usages
Travertine is known as a cool stone. It doesn't hold heat. This makes it an ideal choice for poolside flooring. You don't want to get your feet burned due to the sunlight. Its non-slip surface also makes it an ideal stone for pool decoration in your garden.
When you design your garden, you would want to find the best stone for your pathways. The answer could be travertine. After laying travertine on the walkways of your garden, you can create a stylish and antique view in your garden. The most preferred type of travertine for walkways is honed travertine.
Colour Options
Travertine can be found in different finishes and colours. You can choose various colours like cream, red, grey, tan, silver, and yellow and different finishes like filled, tumbled, brushed, polished, and chiselled. This enables the end-user to choose an eye-pleasing option for their gardens.
Durability
Travertine is much more resistant to aging effects. We know that this stone was used in ancient buildings like in stone masonry to the Dynasty of Egypt in 3000 BC. Travertine stones were also used in Hierapolis near Pamukkale, Turkey around 2000 BC. So, if you want to create an vivid view in your garden, and use a long-lasting stone, you can choose travertine stones for your garden design.
Since travertine is extracted in the Mediterranean region of Turkey, you can create a Mediterranean look in your garden not to mention its durable formation which could be an advantage in harsh weather seen in Northern Europe.
Travertine flooring stones are also robust and sturdy for sitting benches having garden furniture. If you want them to look gorgeous in the whole year, small maintenance and clean-up would suffice.
Flexibility
Travertines can be used in a great number of options in your garden. It can be applied with an abundant number of varieties. And its flexibility of use will surprise you. It can be used in decking and seating areas in the garden. And it can be used in pool designs. Its colour options will brighten your garden.
Maintenance
Maintenance of travertine is not that difficult. However, travertine has some small holes which may cause the penetration of liquid and sediments to accumulate. This can be inhibited by applying a sealer. This should be done during the installation stage in the garden. And this coat should be applied at regular intervals during the service life of the stone. Besides, the cleaning of the travertine in the garden is rather simple. You can clean travertines in the garden with the help of a mop and soapy water.
The world's top travertines are produced in Turkey with the experience of Delta Marble. You would be amazed at the colour and finish varieties of travertines for garden use we could offer if you happen to visit our website or just come to our showroom in Istanbul. We export our travertine stones to different countries and our end-users just like them. Please get in touch if you have any questions.