Should we use marble tables? The answer is of course yes if you do a little maintenance. There are numerous advantages to use marble as a table. You can select different design options for marble tables. And don't forget some of the tips you'd better consider for marble tables.
Marble is a compact stone in contrast with its soft structure. For centuries, marble is known for its luxury and style features.
Marble tables can be stained and scratched. However, when you do regular maintenance you will be able to use this stone table for years to come.
Advantages
There are several advantages of using marble tables in your home design. The first thing to say on the list is its beauty. It will create an attraction point in your home, and you will find yourself chatting with your guests on this table for hours. And your guests will be amazed at the stylish look coming from this table. You can share your design choice and style with your guests.
Marble is a durable stone, and it will last your years if you care about it properly and regularly. It has different colours and tones. This way, you can adapt the marble table to your home design.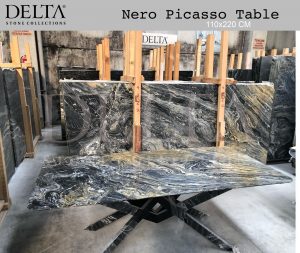 Care
To avoid stains, don't forget to use coasters. If you find any spills especially coming from acidic liquids, you need to clean it immediately. It's a good idea to use only cleaners recommended for marble. Regular household cleaners contain chemicals and they can damage the surface of your marble table. Don't forget to apply a sealant for your marble if the marble type you use needs sealing.
Marble Table Designs You Can Use in Your Home
The main choice of marble as a table is the dining table. They are must-have furniture in home design. You can reflect your dining table style with a great variety of colours and tones. Just select a colour and manifest your style. Some of the design options you can select from are an oval dining table with cream marble or a rectangular dining table with black marble. You can change the shape, thickness, and colour as you please. Marble dining tables can furnish a luxury ambiance in your home and still be low-priced.
Another choice is coffee tables. Marble coffee tables are amazing styles to add elegance to your home. There are numerous styles and options from brass to gold, from minimal to curved. To give an example gold coffee tables look great with a white living room. Maybe you should choose a black coffee table with a white seating group.
Tips
When you have decided to purchase a marble table for your home, it's always better to do a simple search on the web and decide which table you want. If you have kids, it will be a good idea not to choose marbles with sharp edges. Don't forget to use coasters and trays while having foods and drinks to keep the marble sharp for a long time. And to keep the shiny look on the marble, you can reseal the marble from time to time.
Since marble is a heavy material and delicate for crushes, they need more care. Cracked marbles cannot be restored to their previous state. For this reason, marble tables should be chosen in less used areas in your home. Also, when you place the dining table, it shouldn't be displaced as much as you can.
If you are planning to use a marble table in your home design, then please don't hesitate to check out our website or give us a call. We will be more than happy to assist you to choose the best marble table from our Delta Stone Collection.